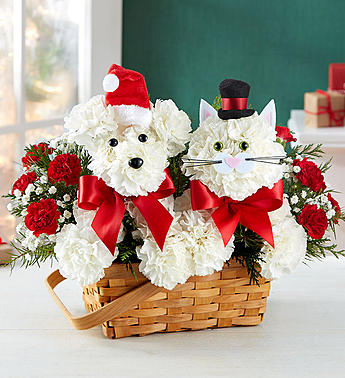 Playful Paws for Holiday
$ 79.99
The holidays bring everyone closer together, and our floral cat & dog are no exception. In our partnership with 1800flowers we bring our playful pets that each has its own unique personality. A dog dressed up like Santa from head to paw, and a cat in black top hat makes the purrrfect Christmas caroler. There's no denying these two jolly pals will charm their way into the hearts of those you hold dear.
Substitution Policy

In some instances, the photo may represent an overall theme or look and include a one-of-a-kind vase which cannot be exactly replicated.
Although the actual bouquet may not precisely match the photo, its temperament will. Occasionally, substitutions of flowers or containers happen due to weather, seasonality and market conditions which may affect availability. If this is the case with the gift you've selected, we will ensure that the style, theme and color scheme of your arrangement is preserved and will only substitute items of equal or higher value.