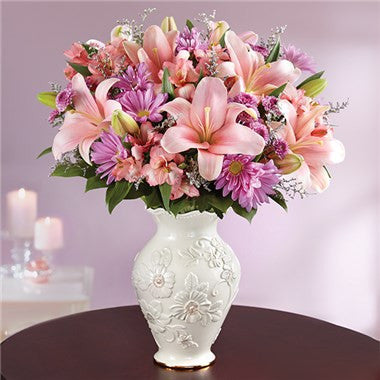 Mother's Love in Lenox
$ 79.99
They say when a child is born, so is a mother. And from the very beginning, there is an unbreakable bond formed. Celebrate the love you share with our fresh-from-the-meadow gathering of pink and lavender blooms, in our limited edition Lenox® vase. In partnership with 1800Flowers, our unique Primrose vase is crafted of shimmering glazed ivory porcelain, which opens with a ruffle-shaped neck and features beautifully embossed blossoms, lavishly accented in 24 karat gold. Send this unforgettable Mother's Day keepsake to remind her of the special place she holds in your heart.
Substitution Policy

In some instances, the photo may represent an overall theme or look and include a one-of-a-kind vase which cannot be exactly replicated.
Although the actual bouquet may not precisely match the photo, its temperament will. Occasionally, substitutions of flowers or containers happen due to weather, seasonality and market conditions which may affect availability. If this is the case with the gift you've selected, we will ensure that the style, theme and color scheme of your arrangement is preserved and will only substitute items of equal or higher value.